Expanding and Integrating Spaces for Seamless Operations
2023 ABC Eastern PA Chapter Excellence in Construction Award Winner
Excellence – Best Pre-Engineered Building Over $10 Million
The Penntex team partnered with SEA BOX, Inc. to expand an existing manufacturing floor and office space to accommodate company growth and create increased capacity. From adding a 4-story addition and constructing a space tall enough to house internal cranes to completing infrastructure improvements so all facilities were tied together, this project required strategic planning and integrated collaboration to achieve key milestones and deliver value.
Manufacturing Expansion (207,000 sq. ft.)
The Penntex team used a Butler® prefabricated metal structure to expand the existing manufacturing floor. To accommodate production of the large storage containers manufactured on site and five internal cranes that run throughout the building, the new space featured a 68-foot roof height with 62-foot internal clearances. Construction plans called for a high degree of customization to accommodate operations including:
Lowering of required foundations as well as customizing of pits and trenches to facilitate equipment placement and installation.
Installation of a siphonic roof drain system engineered to prohibit air infiltration to the pipe, thus allowing for greater flow velocity and volume use which resulted in a significant reduction to pipe sizing.
Integration (delivery and facilitation) of high-pressure gas main (5 PSI) to the building and distribution throughout.
Adding a custom 35KV switchgear consisting of 3 2500KVA 26KV transformers (2 for the new space and 1 for the existing warehouse), sectionalizing cabinets, temporary service and comprehensive grounding grid.
Construction of a compressor room with 4 internal compressors, tanks, and air lines.
Installation of bulk gas storage tanks outside that distribute CO2 and Argon to welding stations within the building.
Installation of a fire pump and a full sprinkler system within the facility. Included custom sprinkler fit-out at all equipment booths, ducting, and added obstructions.
Installation of 5 high-speed fabric doors, dock doors and positions, as well as an oversized coiling door.
Coordination with electrical engineers, electrical contractors, client engineers, PSE&G, and other entities to ensure the new expansion and existing facility function cohesively.
Providing structural steel to support an internal, floating skyway that is constructed out of large sea boxes. The bridge is large enough for golf carts to drive on and turn around. It will be used to give visitors a bird's-eye view of the facility without interrupting operations on the floor.
Office Addition (34,000 sq. ft.)
Using precast panels for tilt-up construction, the Penntex team completed a 4-story addition and an office fit-out. The finished space features unique features, including:
A bridge made from sea boxes and 2 elevators that connect the new and original offices.
A high-tech, integrated security system.
A reception desk, meeting areas, kitchens, and spacious offices.
Custom woodwork, tile, high-end finishes, and a balcony in the fourth-story executive spaces.
All new steel dunnage and rooftop HVAC units.
Balancing a critical delivery timeline with the need to ensure client operations in existing spaces remained up and running throughout construction required detailed planning and collaboration.  Penntex worked in lock step with the SEA BOX, Inc, team to coordinate electrical shutdowns, traffic, access points, and more to ensure both the client's day-to-day activities and the construction timeline were not disrupted. Through a commitment to delivering outstanding work and an exceptional experience, Penntex was able to keep construction progress advancing to deliver the building in time for all equipment arrival and set up.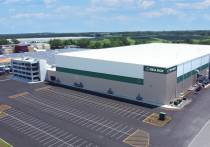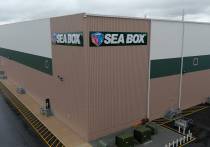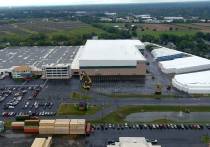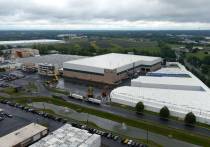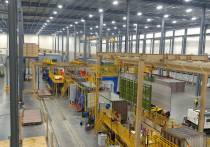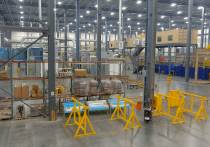 Location: Cinnaminson, New Jersey
Industry:
Industrial & Manufacturing