Remaining Adaptable to Achieve Project Success
Maximizing value and delivering an excellent client experience on this 809,402 square-foot tilt-wall distribution center required flexibility and strategic project planning to keep work advancing in the face of scope changes and external challenges.
Civil Engineering Collaboration
The project's civil engineering scope was executed as a prime contract directly with the owner. To achieve critical milestones, Penntex ensured seamless coordination and communication among all partners.
Managing Scope Shifts
While the original contract included just the distribution facility, a spec office was added as a change order after construction was underway and underground work was completed. Penntex was able to seamlessly adapt to the change, completing necessary underground plumbing and electrical work needed to keep the office progress advancing in alignment with the overall timeline.
Mitigating Supply Chain Issues & Utility Disruptions
Disruptions in switchgear supply, coupled with power company delays, required creative planning to mitigate impact and keep work advancing. A water treatment system requirement by the water company meant close collaboration with developer partners managing installation to ensure water supply at critical fire protection system installation and testing dates.
Powering Through Permit Delays
Building permit delays by the township created early schedule impacts. To avoid a total stoppage, Penntex was able to secure a partial permit to begin underground work as the full permit process advanced as the building was prepared to go vertical. As is typical with early schedule disruptions, a domino effect required the team to manage out of sequence trade work and weather impacts to keep construction advancing efficiently.
The ability to tap into trusted relationships with subcontractor partners, coupled with the Penntex team's commitment to proactively manage scope shifts and deliver solutions to mitigate the impact of external factors, ensured successful delivery for our owner partners.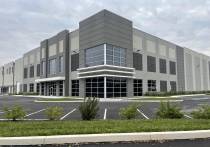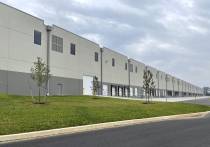 Location: Bernville, Pennsylvania
Owner: Core5 Industrial Partners, LLC
Industry:
Industrial & Manufacturing
Square Footage: 809,402 sq. ft.