Leveraging Design-Build Expertise to Deliver a Complex Sorting Facility
When the plan for this 155-acre site shifted from a 1.2 million square-foot warehouse to a highly complex proprietary sorting facility for a major retail brand, the Penntex team applied design-build expertise and a strategically managed cadence of construction to meet tight project specifications and deliver on a critical move-in timeline.
Complex Design Customizations
Designed so products would be sorted and never stored on-site, the custom layout of this unique 416,310 square-foot sorting facility included an unusually long, narrow footprint featuring a complex conveyor system to move products through the space in minutes.
High-Traffic Demands
Accommodating the high-traffic demands at the facility (2,000 trucks per day accessing 900 trailer stalls and 200 dock positions) required installation of 10-inch-thick heavy-duty concrete designed for a 20-year lifespan across the truck court and trailer parking areas.
Dramatically Expanded Roadway Improvements
While the original scope of highway occupancy permit work was fairly minimal, the scope expanded significantly once PennDOT surveying and planning was complete. Required upgrades included widening and adding a full turning lane to a state road, as well as nearby road reconstruction and township road work. Access requirements also changed as a result of adjacent property negotiations leading to further right-of-way work.
Tenant-Specific Vendor Collaboration
Completing the building shell to ensure it was watertight ahead of the planned material handling install required strategic coordination and accommodation for the tenant-required overhead door vendor.
Penntex's in-house design-build expertise was at the heart of successful delivery of this new facility, now home to a major national retail tenant. Staying on timeline in the face of the expanded scope required extensive collaboration with owner and subcontractor partners to ensure access and keep work advancing. The final distribution center included features such as:
Customized loading dock equipment
Tenant-specified overhead doors
Dock communication system
Dock shelters
Trailer staging
Guardhouse
Fire protection pump house
Fire protection water tank
Fuel station canopy
Glass and glazing
And more!
Though there were changes and challenges along the way, the Penntex team rose to each one and was ultimately able to deliver on time. Providing value meant finding ways to minimize the impact of changes to both the budget and schedule while keeping construction moving at every turn.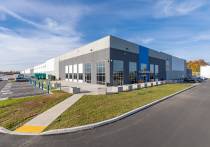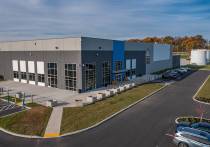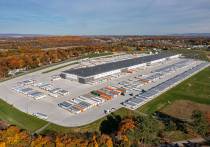 Client: Joint Venture of QuadReal Property Group and Transwestern Development Company
Square Footage: 416,310 sq. ft.