State-of-the-Art Outpatient Services
Currently under construction, this 10,000 square foot outpatient medical facility will offer a full range of vascular care services with roughly half of the space dedicated to patient care and half to staff offices. Following completion of the ground-up construction, the final healthcare facility will feature:
Custom-designed procedure space with a negative pressure air system and a connected sterile room.
Pre- and post-op patient spaces featuring an integrated nurse call system.
Consult and exam rooms.
Hospital-grade electrical system with generators for full building backup.
Lobby and waiting areas designed for comfort and featuring high-end finishes.
Medical-grade finishes including welded vinyl floors and wall protection.
Custom design elements for patient comfort including mounted televisions, dimming lighting and more.
Administrative, staff and doctors' offices and a staff lounge.
To achieve the expedited timeline and deliver the completed space ready for occupancy in early 2024, the Penntex team is fast-tracking sitework to get underground construction underway and complete so above ground construction can begin as quickly as possible to avoid any potential late-year weather impacts. Stay tuned for more updates as construction advances.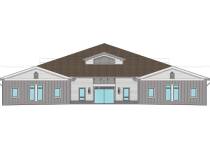 Owner: Pulse Vascular, LLC
Industry:
Healthcare & Life Sciences
Square Footage: 10,000 sq. ft.