Bringing A One-Of-A-Kind Warehouse & Distribution Center to Life from The Inside Out
This large-scale, three-phase project included a primary build, secondary facility expansion and custom tenant fit-out totaling one million square feet. From overcoming site-specific challenges presented by unstable ground to integrating unique features and systems designed to maximize sustainability and flexibility, this warehouse and distribution project was anything but your standard big-box build.
Creative work phasing, including approaching the project from the inside out was key to remaining on timeline while extensive sitework was completed. Muddy soil, rock-filled ground and a natural fault contributing to numerous sinkholes required the Penntex team to work closely with on-site engineers to develop and implement solutions to keep work advancing. To ensure this massive build was crafted on solid ground, and to mitigate plaguing access issues caused by unstable soils, the team took steps to cement stabilize the building, ensuring work on the pad could continue as the larger exterior challenges were addressed. As work progressed on the building, the sitework team completed extensive drilling, blasting and moving over 900,000 yards of material, carefully calculating at every turn to deliver a balanced site.
In addition to the many substate-based complexities, the physical location of the site also created unique problem-solving opportunities. To mitigate the impact and disturbances to a neighboring dairy farm, the Penntex team installed a 20-foot sound wall to reflect noise. Additionally, to improve traffic flow in the area, the team executed Highway Occupancy Permit (HOP) work, adding a new traffic signal and turning lane near the facility, and completing improvements to an existing PA Department of Transportation salt shed near the property.
In addition to delivering solutions to site-specific challenges, the Penntex team applied specialized expertise in warehouse and distribution construction to create value through every phase of the Penn Commerce Center project, integrating unique features that help set this one-of-a-kind facility apart.
Primary Building (Building A)
Originally totaling over 800,000 square-feet, Building A was one of the first sites on the east coast to feature an injection well system. As rainwater comes off the roof, it is collected into two 16-inch pipes, sent through a filtration and ultraviolet (UV) system and then fed into one of the 12 wells that surround the building. If the wells fill up, the system will shut down and redirect the water to basins.
The east-side wall in the strategically planned design is expandable out to a total of 1.4 million square feet. In the future, if the tenant needs additional space, the metal wall can be removed to create a path for seamless expansion over a site that has been pre-prepared to be nearly at-grade for slab construction with very minimal foundation work.
Expansion
The Penntex team completed a five-bay expansion, with a goal of creating the ability to pull vehicles directly into the facility. Construction required cutbacks to large sections of flooring to create a sloped surface and create access to install drains to allow vehicles to be unloaded and washed within the bays.
An indoor, 140-car parking garage features a dedicated exhaust evacuation system, large automatic speed doors and emissions sensors to help ensure safety and air quality.
Fit-Out
This custom fit-out featured extensive conveyor installations, which required an increase in electrical capacity to 12,000-amp service (more than 30 times the average power service at similar-sized sites). Successful integration included conduit work from the main utility lines and implementation of two services (one from the back of the site and one from the front) to accommodate power needs.
Backup generators for each electrical service and the injection well system were installed to ensure power is always maintained.
A data center/computer room was constructed in the middle of the warehouse to monitor conveyor operations.
Luxury vinyl tile and other durable finishes were installed throughout the space.
Every detail of the Penn Commerce Center was designed and constructed to enhance operations and create more efficient processes for the tenant, now and into the future. Successfully bringing the project to life required diligent planning, constant communication with our owner partners and team of trusted subcontractors and a constant commitment to Building Better to add value every step of the way. Penntex is currently working on Building B at the Penn Commerce Center complex with construction on-track for completion in 2024.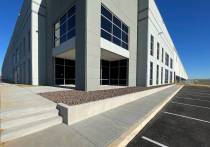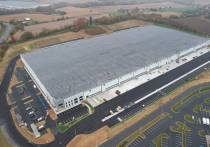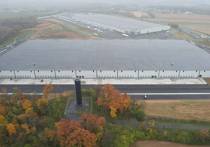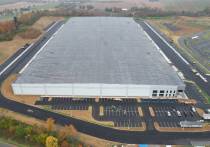 Square Footage: 1 million sq. ft