Maximizing A Complex Site to Deliver a Modern Warehouse
Under Construction
Currently under construction, with an anticipated Summer 2023 delivery date, this 160,000 square-foot warehouse build packs a lot of complexity from the ground up. Making the most of the irregular flag-shaped lot to ensure the client could maximize their space meant careful coordination of access and easements to keep construction flowing, while minimizing disruption in the surrounding area.
Out of the gate, the location proved to have some particular challenges in store for the team, including an expansive section of rock running through the lot that required blasting and subsequent import of 60,000 yards of material to build the site back up. The building itself showcases a modern design with distinctive architectural details, highly functional features, and high-end finishes, including:
Tilt-wall panel construction
Ample clerestory windows
Two-story glass entries
16 full industry-leading dock packages with 13 additional overhead doors with flexible positions
2 drive-in doors
129 parking spaces, 26 truck stalls and 5 overnight truck stalls
3,500 square-feet of Class A office space, featuring high-end features and finishes
From strategic planning to minimize the lot issues to creating solutions to address the rock, while keeping the project on schedule and on budget, the Penntex team is working closely with JW Development Partners II to add value through every phase of construction. Stay tuned for updates as we work to bring the client's modern warehouse vision to life.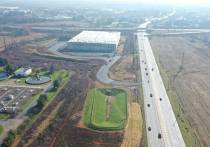 Location: Lehigh County, PA
Owner: JW Development Partners II, LLC
Square Footage: 160,000 sq. ft.