A LEED Gold Certified Distribution Facility
Project Detail
This 408,390 square-foot new construction distribution facility was built on over 27 acres in East Windsor, New Jersey. Penntex provided comprehensive design-build and construction management for the project. The energy-efficient facility received LEED Gold Certification and includes both interior and exterior features that contribute to sustainability.
Coordinated Planning Inside and Out
Sitework enhancements to the property included:
336 car parking stalls and 74 trailer parking stalls
Soil-cemented building pad
Storm water design including construction of four underground detention basins and one large wet basin
Extensive landscaping and site fencing
Off-site road improvements to accommodate a watermain extension

Designed with efficiency in mind, the distribution facility features:
8" thick tilt-up concrete construction with rigid insulation
8" thick floor slab
Fully adhered 60 Mil white TPO roofing over 3.5": installation, totaling R -20 with one roof hatch
62 dock doors with mechanical levelers and LED dock lights and canopies
Full-building ESFR sprinkler systems complete with diesel fire pump
Comprehensive site lighting including a powered new construction guardhouse and security gate
Special HVAC systems that achieve two air changes per hour for ventilation
Two office fit-outs totaling approximately 4,000 square-feet and internal warehouse restrooms
Efficient By Design
Penntex worked closely with site owners, subcontractor partners and lead architect KSS Architects throughout the project to identify sustainable options to drive efficiency. Following completion, the new construction distribution facility received LEED Gold Certification. Areas contributing the designation included:
Low emission and fuel-efficient parking stalls with signage
Installation of a white TPO roofing to reduce reflection and heat generation
Storm water design credits for quality and quantity control via installation of three underground storm water basins and one large wet basin
Energy performance credits for energy efficient lighting, fixtures and implementation of a post-construction green lease to limit future lighting and fixtures
A waste management plan managed by Penntex which ensured credits for both recycled and regionally-sourced materials
A Penntex-created and enforced indoor air quality (IAQ) management plan leveraged during construction
Careful selection of adhesives, sealants, paints, coatings and flooring systems
Optimization and sustainability were at the heart of this complex project from start to finish.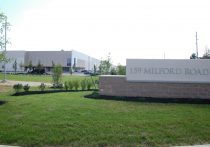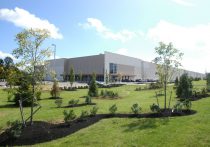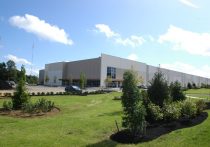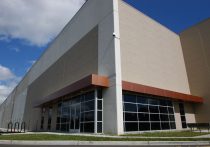 Location: East Windsor, NJ
Owner: Trammell Crow Company
Square Footage: 408,390 sq. ft.