UNDER CONSTRUCTION
Currently under construction in Bethlehem, PA, this combination renovation and expansion project will increase the manufacturing space for Freshpet Kitchens through renovation of an existing 50,000 square-foot facility and expansion of an additional 90,000 square-feet of production space.
The design-build project requires carefully-coordinated Building Information Modeling (BIM) to accommodate the mechanical, electrical, plumbing, HVAC fire protection and processing systems required for manufacturing. Once complete, the new manufacturing space will make Freshpet one of the largest food and beverage manufactures in the Lehigh Valley.
To learn more about how the project is contributing to growth in manufacturing in the Lehigh Valley, check out the blog.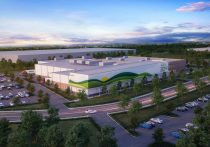 Industry:
Industrial & Manufacturing
Square Footage: 140,000 sq. ft.