Renovation & Expansion of a State-of-the-Art Food-Grade Facility
Meeting the aggressive timeline and startup goals for this $100 million, 140,000 square-foot renovation and expansion project required careful coordination, collaboration and open lines of communication. Having a clear understanding of Freshpet's goals and operational needs were key to Penntex's ability to deliver this state-of-the-art, food-grade facility on time and on budget.
Strategic Coordination and Sequencing
Achieving project goals required MEP building information modeling (BIM) to accommodate the integrated operational and processing systems across the facility. Strategic coordination and sequencing of large building openings was critical through all stages of construction so Freshpet's equipment could be moved into and through the facility for installation.
Thoughtful Material & Systems Planning
Planning for precise temperature-controlled zones and production-driven design solutions and materials selection included:
High-efficiency industrial ammonia refrigeration system.
 Anti-microbial, skid-resistant floors.
900 tons of galvanized steel for corrosion protection.
33 high-speed dock doors.
Pop-up ceilings to accommodate the scale of the equipment.
A walkable interstitial ceiling with complex piping and access points.
Keeping the Project On-Track Through the COVID-19 Pandemic
When the restrictions and guidelines resulting from the COVID-19 pandemic hit, Penntex focused on collaboration and open lines of communication between the Freshpet team and subcontractor partners to keep work advancing toward critical schedule milestones. Flexibility and adaptability was key to managing work and material supply shifts throughout this unprecedented time.
A Superior Client Experience From Start to Finish
The Penntex focus on Building Better was at the heart of delivering an exceptional client experience for the Freshpet team from start to finish, which ultimately ensured a project delivered in alignment with the vision of being completed on time and on budget.
Penntex was very understanding of our products and processes as well as the demands we were going to ask of them and of the project itself. The schedule was very demanding and Penntex was able to choreograph that and ensure work went on as planned. Our relationship with Penntex is more of a friendship than an owner/vendor connection and that's something we value and believe was critical to the success of the project.
Michael Hieger,
Senior Vice President of Manufacturing, Freshpet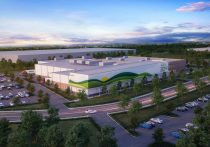 Industry:
Industrial & Manufacturing
Square Footage: 140,000 sq. ft.