Design-Build with an Unexpected Second Floor Addition
Project Detail
Located in the former Philadelphia Naval Yard, this mixed-use corporate and healthcare space was originally designed as a one-story research center featuring office space and a clean room for WuXi Apptec to perform oncology research and product development. Just as construction was beginning, it was deemed necessary to add additional space to the approved site plans to accommodate the research goals of the company.
High-Level Collaboration for Seamless Integration
The need for more space meant dramatic design changes and a complete reevaluation of all MEP work as well as a comprehensive structural review to incorporate an additional 75,000 square-feet, including a new second story. Penntex worked closely with owner Prologis, tenant WuXi Apptec and project subcontractors to expedite evaluation and planning to accommodate the change – determining the most efficient, expedient and cost-effective options.
Coordinating Changes Inside and Out
The addition of the added square footage and second floor facility meant planning for and executing dramatical changes inside and out, including:
A large 5,000-square-foot, two-story mechanical and electrical room was added to the project to house the mechanical, process and purification systems for the new lab facility.
The roof structure was revised from a simple joist-framed roof to a full structural-beam-framed design to handle the additional loads of the HVAC equipment necessary to support operations in the expanded space.
The exterior pre-cast wall envelope was modified to coordinate and add overhead door openings to facilitate equipment installations and dock equipment locations.
Optimized Spaces for Pharmaceutical Research
During construction, Penntex also teamed up with Hoddess Construction and installed their design of major lab clean rooms utilizing insulated metal sandwich panels (IMSP), interstitial, walkable, ceiling and wall panels. All lab clean room floors were a combination of stonclad UR silver mortar and top-coat epoxy floors with integral base and seamless vinyl coverings. Penntex also completed the 30,000 square-foot office and lobby fit-out included in the project specifications.
Efficiency & Function: LEED Gold Certified
Following completion, the facility received a LEED Gold certification. Factors contributing to certification included:
The project was a former brownfield that was redeveloped
Integration of low emission designated parking stalls with signage
Use of recycled concrete and steel materials
Added and upgraded windows throughout for better lighting
TPO roof
Aligned with all requirements for plumbing flow rates and sprinkler and fire alarms
Creative solutions developed through intentional collaboration was key to Penntex's ability to meet the needs of this evolving project and still deliver on time and within the target budget.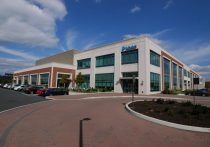 Location: Philadelphia, PA
Owner: Liberty Property Trust (now Prologis)
Industry:
Corporate & Commercial
Healthcare & Life Sciences
Square Footage: 150,000 sq. ft.