Maximizing Efficiency for a 920,400 Square-Foot Warehouse Facility
Project Detail
Built on a 130-acre parcel of land, this new 920,400 square-foot warehouse facility was added to the Boulder Business Center campus in Breinigsville, PA. During construction, the building was pre-leased to FedEx and Smuckers with contingencies in place that required delivery of the project in advance of the original schedule. Penntex worked closely with project subcontractor partners to formulate and implement a plan that ensured delivery prior to the new expedited deadline.
Blasting & Crushing for Sustainability
Site construction included blasting and crushing over one million cubic yards of rock, which were subsequently used on-site to leverage cost savings. 100% of the stone required for building the pad, pipe trenches and parking areas were produced on-site as part of the drilling and blasting operation.
LEED Silver Certified
In addition to the efficiencies leveraged from the on-site rock, the project included a variety of features that contributed to a LEED Silver Certification including:
VOC-compliant paint on both the interior and exterior
Bike racks
On-site shower/changing rooms
Solar water heating system for potable water
Vegetation that requires limited to no irrigation once established
Structural steel comprised of a minimum of 50% recycled content
Concrete harvested from local resources within a 250-mile radius
On Budget. Ahead of Schedule.
By expediting the project through optimized planning and construction management, Penntex was able to help Liberty Property Trust (now Prologis) and their tenants meet their occupancy goals, delivering a project with efficiency and sustainability in mind from start to finish.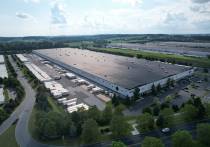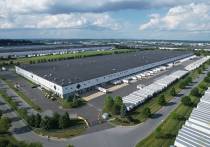 Location: Breinigsville, PA
Owner: Liberty Property Trust (now Prologis)
Tenant: Smuckers and FedEx
Square Footage: 920,400 sq. ft.