Expedited Delivery for a 451,600 Square-Foot Distribution Facility
Project Detail
Built on lot 3B in the Boulder Business Center, this 451,600 square-foot warehouse and distribution facility for Home Depot had an expedited scheduled made even more challenging by seasonal weather impacts.
An Optimized Schedule for Fast-Track Delivery
A fast-track project, the facility had to be delivered within six months of the start of vertical construction. Further compounding the schedule was the fact that vertical construction, including the forming and pouring of the concrete tilt walls, began during wet March weather with delivery of the building scheduled for August. Penntex developed and executed a plan with subcontractor partners that ensured the schedule was on target for the delivery timeline.  Site work conducted prior to vertical construction ensured the project was primed to take off and long lead planning ensured materials were delivered in a timely manner in alignment with the overall project cadence.
In addition to having the 32-ft. clear height building shell completed (which included 174 truck docks), the timeline meant that Home Depot's interior requirements must also be met in the expedited schedule. This included:
19,000 square-feet of main office space
2,500 square-feet of additional office space throughout the facility
Over 5,000 linear-feet of chain link fence
A 120 square-foot guard house complete with communications, traffic arms, HVAC and a bathroom
In the end, proactive communication, planning and comprehensive construction management ensured that delivery was made one week ahead of the target schedule, on budget.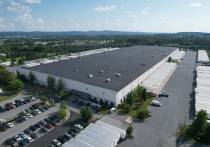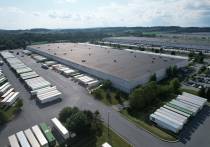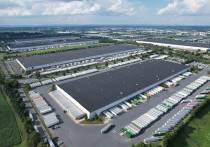 Location: Breinigsville, PA
Owner: Liberty Property Trust (now Prologis)
Square Footage: 451,600 sq. ft.