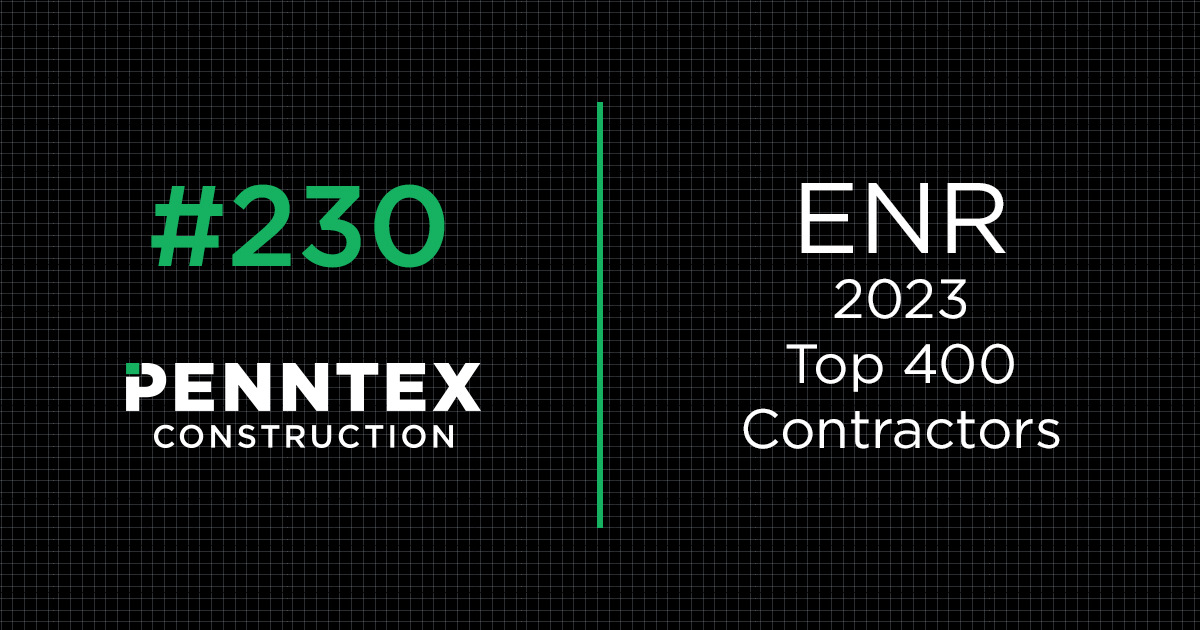 The Penntex team is proud to announce the firm has ranked at #230 on Engineering News Record's (ENR) list of the Top 400 Contractors in the United States for 2023. The list, which ranks contractors based on the previous year's revenue, features companies from across the nation who serve both the domestic and international construction sectors.
"While 2022 was a high-water mark for many construction firms, we took great care to manage growth strategically so we could continue delivering to the high standards of service and value at the heart of our commitment to Building Better. It was important to ensure we were able to sustain momentum on the other side of the construction boom," shared Jim Hoolehan, Penntex President.
For Penntex, managing strategic growth amid the economic and industry highs and lows resulting from the COVID-19 pandemic and impacts from the war in Ukraine meant an unwavering focus on meeting clients where they are and delivering solutions to keep projects on time and on budget. This included overcoming supply barriers, mitigating material cost escalation through value-based considerations in other areas, and leaning into trusted partnerships with owners, suppliers and subcontractor partners to foster open lines of communication built on trust and transparency.
Another important key to success was the ability to attract top talent to grow the team in the right areas with the right expertise. The greater the challenge, the higher the Penntex team rises and fostering a company culture that attracts those aligned with the commitment to Building Better is a guiding principle in the approach to team growth. That focus led to the acquisition of outstanding talent with deep experience and a shared vision for delivering quality work and exceptional client experiences.
"We were grateful to walk alongside our longtime clients and guide them through the whirlwind of changes the industry experienced and continue to deliver project success," shares Hoolehan. "We also had the opportunity to forge new client relationships and build trust by delivering creative solutions to mitigate the impact of rising costs and supply shortages and ultimately maximize value to the bottom line and in the client experience.
"We are looking ahead with cautious optimism. We recognize 2023 will look different from 2022, but believe smart, sustained growth in support of delivering construction excellence for our clients and communities, combined with the right perspective on measuring ourselves and the industry against not just 2022 but the years prior, will lead to continued success. I'm proud of all this team was able to achieve in the face of the extreme challenges the industry weathered."