New Partnership Powers Growth in the Lehigh Valley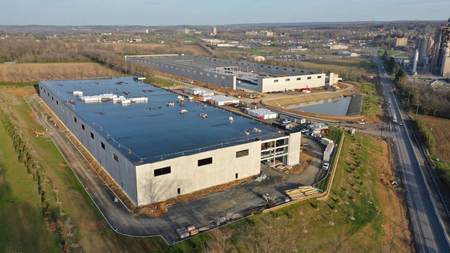 Penntex is honored to have been selected as the building partner for the new JW Development Partners II, LLC, a collaboration between Jaindl Land Company of Orefield, PA and Watson Land Company of Carson, CA. This new venture brings together two heritage companies that prioritize stewardship of land and a shared commitment to a highly contextual approach to industrial architecture that is sensitive to the rural community, while stimulating economic growth in the region. As part of the partnership, Penntex will provide construction services for three new warehouse facilities located in the greater Lehigh Valley areas.
JWD Logistics Center – Route 33 in Northampton County, PA (Buildings A + B)
This new two-building industrial warehouse development is located just off Route 33 in Lower Nazareth Township in Northampton County, PA. Building B, which totals 160,000 square-feet, was completed in September 2022. Construction on Building A, a 470,000 square-foot space, commenced shortly after Building B, and is expected to be completed by November 2022.
JWD Route 100 Warehouse – Lehigh County, PA
In addition to supporting the Route 33 construction project, Penntex is also partnering with JW Development Partners as a general contractor for the firm's latest warehouse project located along Route 100 at the interchange of Route 222 in Upper Macungie Township near Allentown, PA. The spec warehouse will total 160,000 square-feet and is expected to be completed in May 2023.
We are grateful for the opportunity to work alongside the JW Development Partners team to continue to support economic growth across the greater Lehigh Valley region. We look forward to serving their team with the same degree of care and commitment to Building Better that we deliver to all clients who place their trust in our team.