An Update from Penntex President Jim Hoolehan
At Penntex Construction, an important part of our commitment to Building Better is rooted in open, transparent communication that powers our long-standing partnerships and relationships. That's why I wanted to personally reach out to you today to share an important update regarding company ownership. After careful consideration, I'm excited to announce that the following leadership team members have joined me as partial shareholders in Penntex Construction:
Mark Ginther, Senior Vice President – Preconstruction
Lisa Kuester, Chief Financial Officer
Bill Lane, Project Executive – Vice President
Jim Miller, Senior Vice President – Operations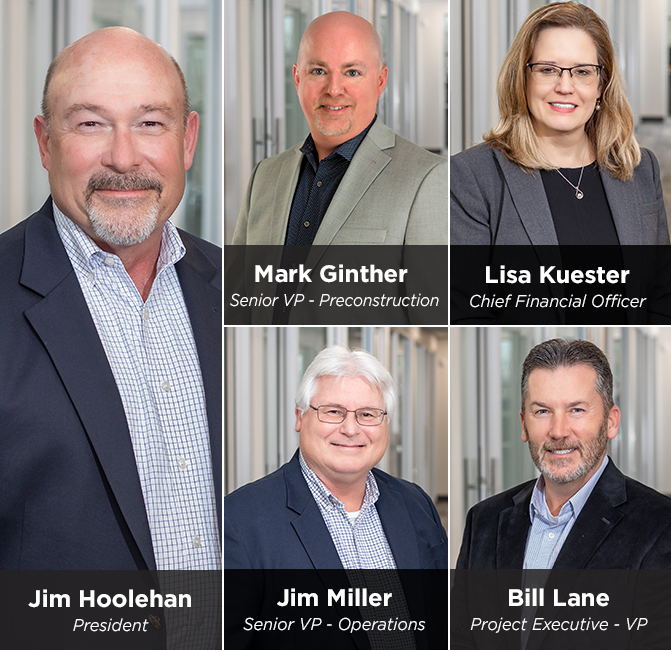 While I continue to maintain majority ownership of Penntex Construction, bringing these leaders into the shareholder level reflects the critical role they play in the company. I have had the opportunity to work alongside Lisa, Mark and Jim for over 25 years and Bill has been a vital leader at Penntex for just as long. Each of them plays a critical role in setting and executing the strategic vision for our company and in our ability to continually deliver excellence for our partners.
Just as any leader who desires to see their company continue on beyond their tenure, I am also committed to long-term planning for Penntex and our team and clients. While I have no plans to retire in the next several years, I recognize that creating the best, most seamless transition starts long before that day arrives.
While we are very excited to make this announcement for the strategic future of Penntex Construction, the operations of the company, our services, and the team will not change We will continue to work together as an ownership team, and in concert with our leaders and team members across the company to carry on the excellent work we have the honor of achieving for the clients we serve.
Click here to learn more about Mark, Lisa, Bill and Jim, including their deep experience in the industry and the pivotal roles they each play as part of the Penntex Construction leadership team. As an ownership team, we are collectively grateful for your partnership.
Sincerely,

Jim Hoolehan
President