Renovations, Upgrades and Improvements From The Inside, Out
This two-story office complex redevelopment project in Bridgewater, New Jersey, involved a total demolition and renovation of the building's interior as well as the complete removal and replacement of the exterior façade and roofing system.
The building's brick exterior and backup panel framing were completely removed to make room for a new metal panel rain screen with new storefront and curtainwall window systems accenting the entrances and corners of the new design. Over 57 tons of steel were added to the structural framing of the roof to support a new 14-foot high mechanical equipment screen wall. System updates also included upgrades to the electrical service and rooftop mechanical systems.
A variety of enhancements to the layout, interior and across the site helped transform the flow and function of the indoor and outdoor spaces, including:
New front and year entrances
A new balcony patio
 ADA entrance ramps
All new motion-activated LED parking lot lighting
A total mill and overlay of all site asphalt
Extensive upgrades to the site landscaping in alignment with zoning regulations
Complexity Managed Through Open Communication
The Penntex project team worked closely with the building developer and their design team from start to finish. Strategic planning and a focus on maintaining open lines of communication ensured a high-quality finished project delivered in alignment with the client's vision and within time and budget constraints. The building was fully leased prior to shell completion and Penntex worked hand-in-hand with the incoming tenant's preferred contracting team to ensure a seamless transition.
"Penntex tackled this very challenging building redevelopment project in a timely and professional manner…We are extremely pleased with the overall finished project and the building was fully leased before construction was completed, which speaks to the quality of the work."
Tom Allman,
Director of Construction & Development Northeast, Exeter Property Group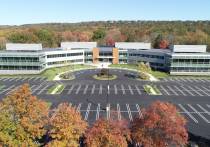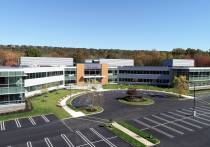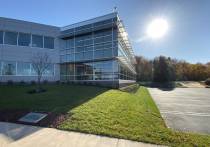 Location: Bridgewater, NJ
Owner: Exeter Property Group
Square Footage: 116,500 sq. ft.