Two Buildings, Extensive Sitework & Critical Deadlines
This two-building warehouse complex project in Bordentown, New Jersey is currently nearing final delivery and has been built on an aggressive schedule that targeted completion of the buildings within just months of one another. The project, which included two large buildings, a fire pump house and a large truck lot, required extensive sitework, which was complicated by an extremely wet winter and moisture sensitive soils. Interior and exterior work was further impacted by the restrictions resulting from COVID-19 sanctions as well as delays resulting from various third parties including area utility companies.
Throughout construction, high levels of coordination were critical to keep the project on track. This included working with three separate townships and the county on approvals related to the off-site force main extension and working around other utility improvements in the same work areas. In addition, mitigating COVID-19 shutdowns required creative solutions including in bringing in third-party engineers to approve work on behalf of township inspectors who were required to work from home. Through all of the challenges and unforeseen circumstances, the Penntex team worked closely with owners Clarion Partners and subcontractor partners to keep work moving forward as planned, delivering key milestones on time and on budget.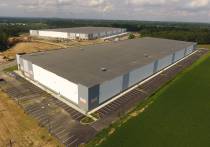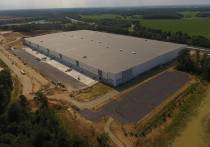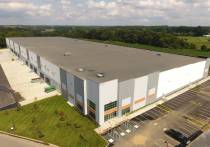 Tenant: Aosom (Building #1)
Square Footage: 959,368 sq. ft.